Ice Maker
Choices — ready to go in 24 hours or less.
A professionally designed affiliate website that promotes a range of Ice Maker appliances.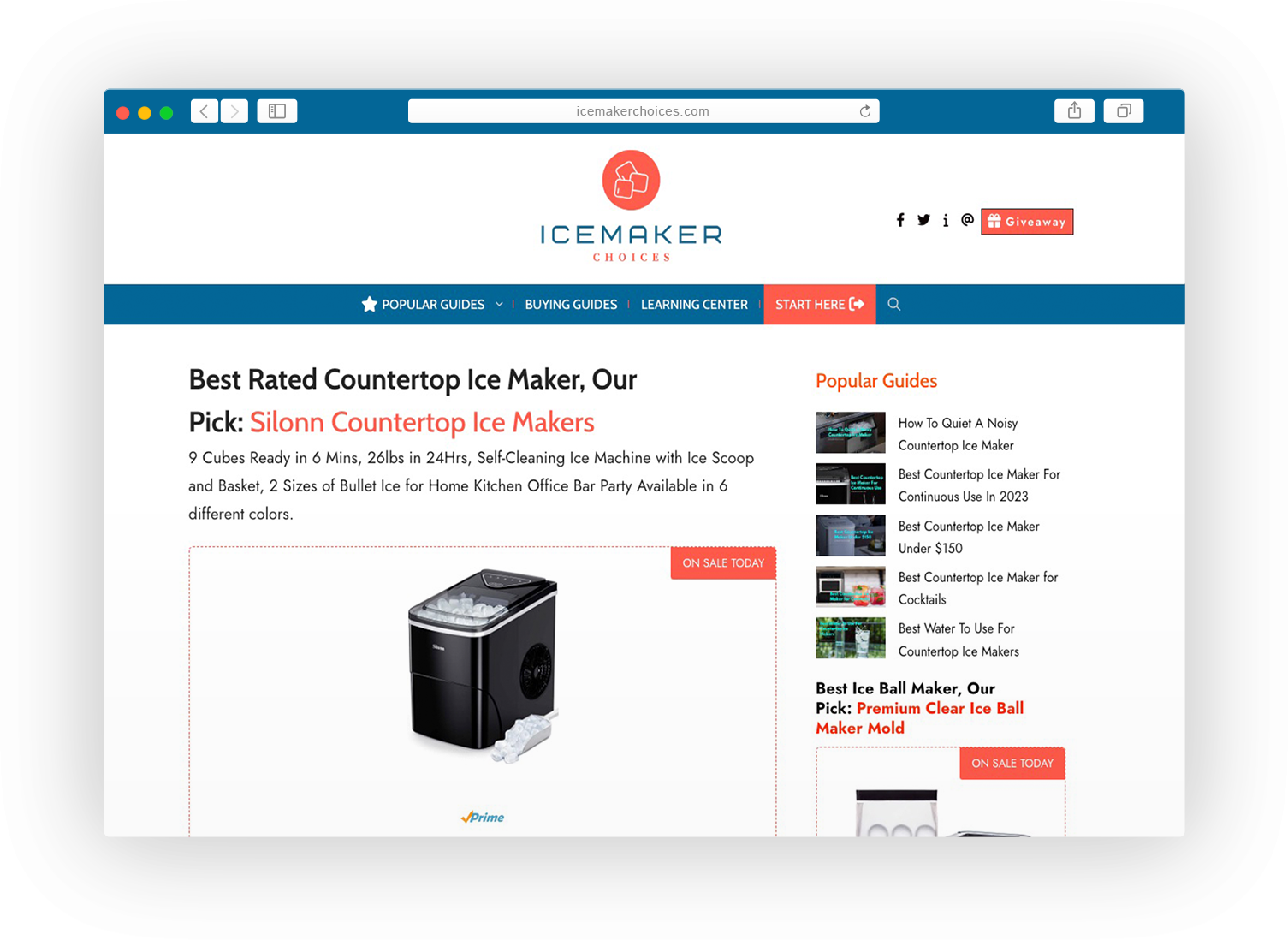 Ice Maker Appliances
Ready-Made Aged Site (20,000+ words) – A professionally designed affiliate website that promotes a wide range of ice maker appliances. This niche has over 106,000 searches per month for the main keywords in the USA. The site includes a premium theme for WordPress, premium plugins, one year of free hosting, support/training, and highly SEO-optimized content.
Key Highlights
Out of Google's Sandbox
Getting out of the Google sandbox is critical for a new blog's success. When you launch a new blog, Google will place your site in a probationary period, often called the "sandbox." Getting out of the sandbox requires time, effort, and patience. This blog is now out of the sandbox with ranking keywords and starting to get traffic.
E-E-A-T Ready
By creating high-quality, informative content, building backlinks, promoting transparency, and telling a story through dedicated category and author pages on this blog, we have created a user-friendly experience that will help you build trust, credibility, and a loyal readership.
A+ Core Web Vitals
Hosted on a LiteSpeed Web Server known for its speed, reliability, and security. With a LiteSpeed Web Server, users can enjoy enhanced website performance and improved protection against malicious attacks. This has helped us achieve high core web vitals scores, improved SEO rankings, and better user experience.
Savings
Value of premium plugins and themes
Value of web hosting services you'll save
Estimated monthly earnings with 25K visitors
Researched Niche with very low 22% keyword difficulty and 38770 longtail searches
Google Search Console
In the image, you can see the screenshot we have taken from Google Search Console that shows the data from the site. Some things to note are:
ahrefs Backlinck Analisis
On the right, you can see the screenshot we have taken from AHREFS showing the site data. Some things to note are:
ahrefs Organic Analysis
On the right, you can see the screenshot we have taken from AHREFS showing the site data. Some things to note are:
Top Organic Keywords
Top Organic Pages
Here's what you get
Web Design
Your website is optimized for speed and usability. Our proven designs drive customers to click and buy the products you promote
Logo Design
A creative, modern logo that will set your brand apart from the competition. Unique to your site and brand.
Premium Theme
With performance and speed at the top of the list. Built from scratch using lightweight themes.
Premium Plugin
Premium plugins to help manage and launch your niche website to the next level.
Complete Website Content
Engaging content you need to attract and convert your visitors, plus everything your need to get EEAT ready.
Web Hosting & Bonuses
Your site includes 1 year of SSD hosting, a free SSL certificate, and a .com domain, ALL FREE
Niche Analysis Report
In-depth niche and market analysis saves you days of research and helps you master the real potential of your market.
Growth Plan
A spreadsheet with keyword research, post titles, categories, and tags, ready to just hand over to your writers.
Frequently Asked Questions
What type of results can I expect?
We look at key performance indicators: followers, engagement, and website traffic & conversions. This is a long-term engagement, starting from zero you will see results after the first three months. You will see these metrics increasing monthly, and we will track our progress to see how this is working for you.
How many new followers can I expect each month?
On Facebook, growth will be contingent on advertising and how effective we make your social campaigns. On Twitter, Instagram, and Pinterest, our clients normally see an organic boost in their followers of 50-300 followers each month after the first three months.
How much website traffic should I expect each month?
Our social media management services focus on engagement. Your organic website traffic may increase as you gain new followers and as your engagement grows, you can expect a 5% increase in the first couple of months and it will start to grow from there if you keep posting. Ultimately it all depends on the niche you are in.
How soon should I expect to see results?
We recommend our clients try this service for at least 6-12 months to see a noticeable impact on conversions. This is because the main focus of our social media management service is to develop your brand's followers, engagement, and word-of-mouth. If you want to focus on driving conversions in the short term, you should consider using our paid social advertising services.
Do you offer a warranty?
Absolutely!
If you are not happy with our service, you can cancel at any time.
Do you have any sample sites I can see?
Sure! Take a look at this site. If you need more samples, send us an email.
Are there any setup fees?
None. We will spend the first fifteen days creating and optimizing your social profiles. Setting them up for success. This service is free of charge.
How will you learn about my business?
We will learn about your business by sending you a questionnaire. Upon completion, we will analyze your niche and site using tools like aHrefs and SemRush picking up the best performance keywords on which we will develop your social media strategy that is specific to your business. If you have any additional questions, you can contact us at any time by email.
Do I have to provide you with content?
No, you do not have to provide us with content. Your social media account manager will develop unique content that fits your niche taken from your articles. We have access to stock photography, simple design software, as well as relevant news sources. We can use this to develop content to engage your audience.
What forms of payment do you accept?
We accept Paypal payments, Visa, Mastercard, Discover, and American Express debit and credit cards through Stripe.
We also accept bitcoin and other cryptocurrencies.
How can we contact you?
Want to get in touch, need a little help? We'd love to hear from you.
Just send us an email at [email protected]